Sakura Matcha Mousse Cake
The sweet embodiment of spring, this sakura matcha mousse cake features a delicate cherry blossom and matcha-scented sponge cake topped with a cloud-like mascarpone mousse. It's an impressive cake to behold, but surprisingly easy to prepare, making it the perfect recipe for easy entertaining.
Trying to describe the flavor of sakura or cherry blossom is like trying to catch a pale pink petal drifting in the spring breeze. It's not overly perfumed like rose or orange blossom, rather more sensuous, almond and apricot and a subtle hint of holiday spice. However you describe it, it's a flavor that pairs beautifully with the grassy notes of matcha green tea, which is exactly what I've done here.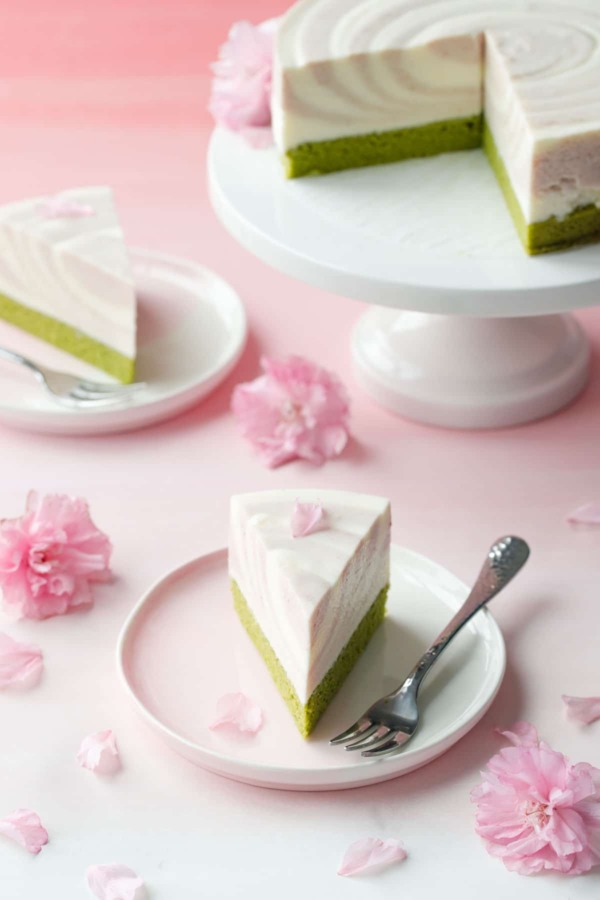 The first time I tried to make this cake I envisioned a transparent pink layer of gelatin on top of the cake with preserved cherry blossom flowers suspended within like dragonflies in amber. Something like this gorgeous cherry blossom cheesecake but with a sponge cake base and mousse filling more like this (can you tell I've been down the rabbit hole of Japanese desserts on YouTube?)
Cool idea, right?
Well, sometimes ideas are better off in the abstract.
Because when I actually went to pour on the gelatin, it A. did not stay clear, stirring up the top of the mousse and becoming cloudy as a result; and B. didn't stay on top of the cake. Instead, it somehow ended up on the bottom, underneath the sponge cake layer (how, I still can't quite fathom). Granted, when I cut into it it was actually , but the top looked a hot mess and as it turns out, the gelatin layer was weirdly salty anyway and the cake tasted better without it.
So I opted to simplify, using only the sponge and mousse layers and cutting out the gelatin layer entirely.
The result is simple and yet stunning, something you can easily throw together ahead of time and serve at your next gathering for show-stopping results. The zebra stripe effect is achieved by coloring half of the mousse with cherry puree and spooning it into the cake mold in alternating concentric circles.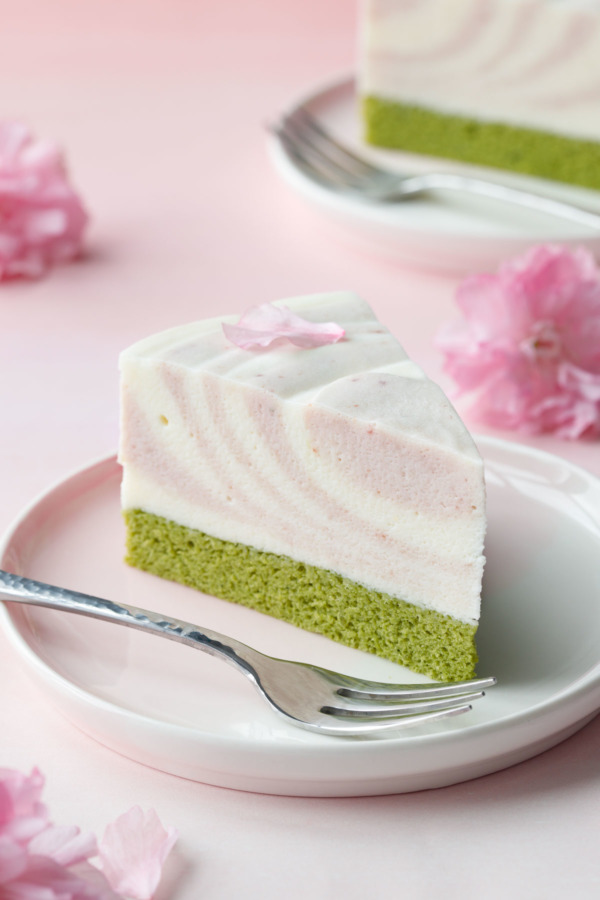 Most of the flavor is concentrated in the cake. Infused with matcha and sakura leaf powder (the leaf of the cherry tree is the most flavorful part, moreso than the blossoms, if you can believe it!) it is a feast for the senses. I'm really in love with this cake, so don't be surprised if you see it again (I'm thinking… matcha cake roll, perhaps?)
The mousse is a cloud of subtle sweetness. The mascarpone adds a hint of tang to offset the sweetness, without overpowering (this doesn't taste like cheesecake). I opted not to add any additional flavorings or extracts to the mousse beyond a hint of vanilla to ensure the flavors in the cake layer sat confidently in the front row of the flavor theater.
I did add a tablespoon or two of fresh cherry purée for color, you really can't taste any cherry in the final product. The color is very subtle, reviewing these photos I find myself wishing I would have added a drop of two of pink food coloring to enhance the striped effect. But it's still pretty nonetheless.