Kendall Jenner: I'm Lucky That My Sisters Made All the Beauty Mistakes First!
Take a minute to imagine you're a Kardashian/Jenner sister (we know — it's weird, right? Bear with us.). Take another minute to imagine the endless beauty products and outfits to which you have access. We're talking Kim's $455 face cream, a high-fashion Balmain faceoff, and essentially everything Kris owns. But there is one less obvious perk to being part of the family — and Kendall Jenner, 19, is sharing what it is exclusively with PEOPLE.
Courtesy Estee Lauder/span>

The supermodel-in-training is the second youngest of the group, and she's thankful for everything her sisters learned going before her. "I get so much good advice," she tells PEOPLE. But she says the best beauty advice she's gotten from her glam fam is about (of course) maintaining a flawless face. "Kylie and I got very lucky because our sisters are years older than us … They made their beauty mistakes and then warned us."
"Kylie and I were both really little, and we were sitting by the pool," the face of Estée Lauder says. "I think we were touching each other's faces, and my sisters were like, 'Never touch your face! Never! You don't want pimples.' They told us to always keep our faces clean."
RELATED PHOTOS: Fashion Faceoff: Kris Jenner vs. Amy Schumer
And in case you were wondering, her sisters are actually makeup experts. "Randomly enough, my older sisters went to a makeup school when they were younger, so they're all really good at it," Jenner told EsteeLauder.com. "They've always told me that 'natural is better.'"
But which sister earned the top spot as family beauty guru? "Khloé was actually the best because she's an artist; she can draw and do all that stuff," Jenner told PEOPLE. "She would do our makeup for Halloween. I remember one year she drew scars on my face, like I had blood coming down. It was super fun."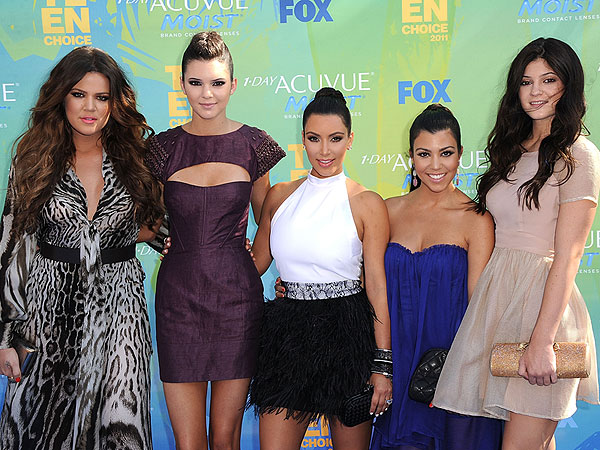 Steve Granitz/WireImage
Besides helping her create impeccable makeup looks and influence her high-fashion personal style, Jenner says her sisters keep her grounded as she travels the world for her modeling career. She says, "If I worked too much and didn't see my family enough, I would not be a happy person."
What do you think of their best beauty advice?
–Catherine Kast
RELATED VIDEO: First Look at Kendall and Kylie Jenner's New Clothing Line, Glam Tips Goldie Hawn Passed to Kate Hudson & More!