See Home & Family Star Paige Hemmis's Gorgeous Fairytale Wedding Dress (Exclusive)
Most wedding gowns are meaningful to the bride. But Paige Hemmis (who you likely know from Extreme Makeover: Home Edition) chose a dress that really meant something to her. We caught up with the star before her Hallmark wedding special, which airs tonight, for all the scoop behind her "fairytale" wedding dress and the personal touches that went into it.
Beautiful Day Photography
The carpenter, designer and expert home builder is tying the knot with Jason Short, a member of musical group ARIA, after extensively documenting all of their wedding planning together on Hallmarkchannel.com. And before fans finally get to see how every gorgeous detail came together, we have exclusive photos of her gown to hold you over until tonight.
"I didn't try on the dress until a couple of hours before the wedding," Hemmis tells PEOPLE. "My dress was custom-made by Mark Zunino and his team in Beverly Hills. I went to a few fittings and showed Mark a lot of pictures that I had found of different aspects that I was looking for as my inspiration."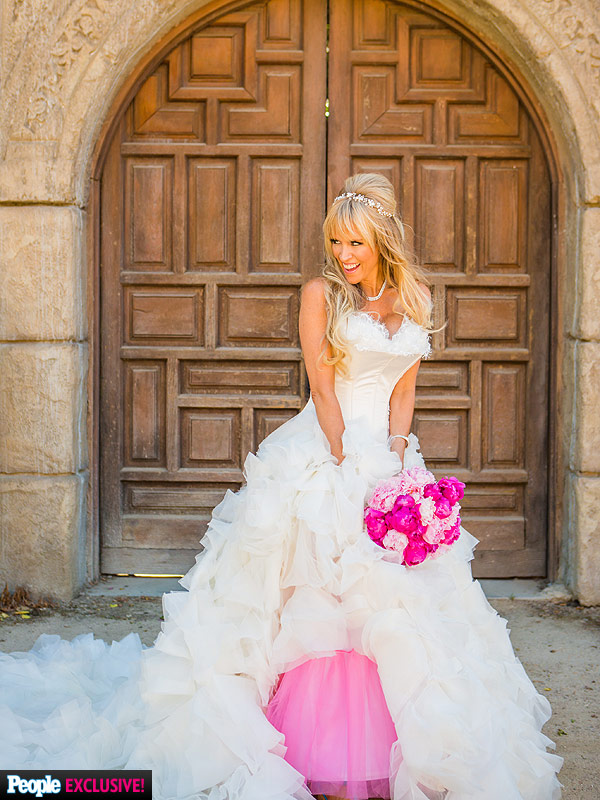 Beautiful Day Photography
But don't look for her gown to echo the event's décor: "The theme for the wedding is 'rustic chic' and I wanted a dress that was the absolute opposite of rustic! I wanted to feel like a princess!" she says. Luckily, with a one-of-a-kind gown that feeling came pretty easy. "I've never had anything that was custom made for me to wear, and it's absolutely amazing how a dress that is custom can feel on your body! Mark is a true artist, and I was his canvas."
RELATED PHOTOS: What We're Loving Right Now
The pop of pink under the gown coordinates with her pretty bouquet, but it turns out there's more meaning to it than that. "The layer of pink tulle under my dress was an honor to the flower girls, and a secret nod to one of my newly-found friends and 'family members,' she says. "Tanya Memme [a fellow DIY-er on Home and Family] made the four flower girl dresses. My flower girls mean so much to me and I wanted to honor them and Tanya by sneaking the same tulle under my dress."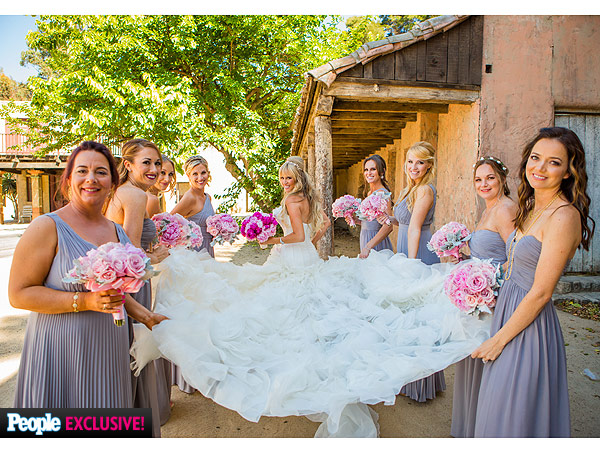 Beautiful Day Photography
Another way she honored those close to her was through her wedge shoes. When Hemmis was worried her brand new white shoes she bought a few days before the wedding wouldn't be comfortable, her all-star made of honor stepped up with a brilliant idea. "My cousin and co-maid of honor, Jaime, looked down at her own shoes and said 'Why don't you borrow these? It can be your 'borrowed' and your 'blue!' We wear the same size, so I took her up on her offer. Ever since she was born, she has been my soul mate. She was on the road with me on Extreme Makeover: Home Edition for my first five years, and has remained one of my very best friends my entire life. It was nice to say my vows literally being supported by my cousin."
And as for her reception look, you'll have to tune in tonight to see her in the finished product, but we do have a sneak peek of her fringed mini dress straight from designer Mark Zunino, below.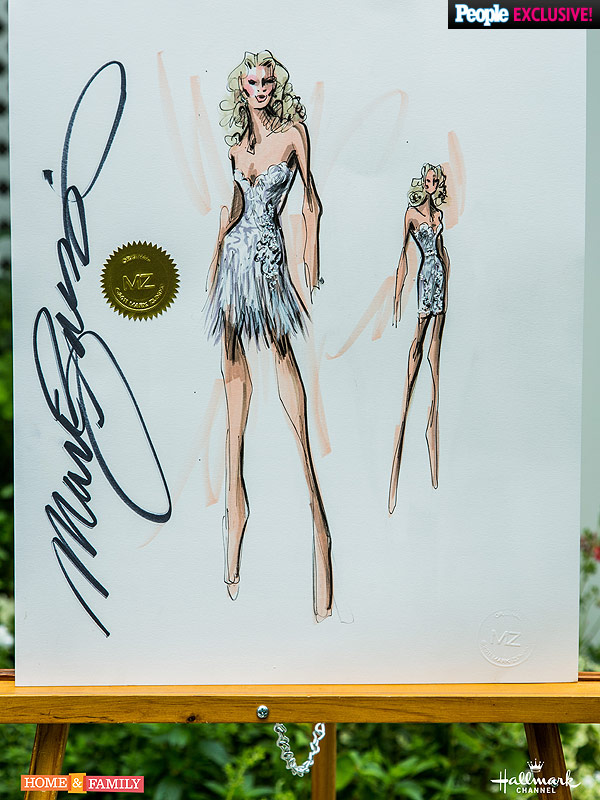 Jeremy Lee/Copyright 2015 Crown Media Family Networks
Watch her tie the knot on Home & Family: Paige & Jason's Dream Wedding tonight at 8:00 pm EST on the Hallmark channel, and tell us: What do you think of Hemmis's wedding dress? Are you tuning in to the wedding special tonight? Share your thoughts in the comments below!
— Colleen Kratofil
RELATED VIDEO: The Super-Flattering Dress That Looks Good on Every Body Type