Cannes 2015: Every Detail Behind Lupita Nyong'o's Gorgeous Gucci Looks, Straight from Her Stylist
To say Lupita Nyong'o has been crushing it at Cannes is an understatement. From her twirl-tastic emerald green Opening Ceremony number to the romantic chiffon gown she wore to the Chopard Party on Friday, the actress takes winning to the next level. Now, her stylist, Micaela Erlanger is opening up to T Magazine about Nyong'o's headline-making Gucci looks.
Courtesy T Magazine
Erlanger describes the Opening Night Ceremony of Cannes as the "Oscars of red carpet style," because it brings every major fashion house to the Riviera. "Portable showrooms and ateliers are relocated to hotel suites, making this kind of accessibility unique to Cannes," she told T Magazine. "It is truly a stylist's dream! The Promenade de la Croisette, a main road in Cannes that leads up to the Palais des Festivals, is filled with a mesmerizing parade of glamour. There is certainly more couture to be seen here than at any other awards show."
So how did the stylist narrow down the copious options to chose from? "This year, Lupita and I decided to work with Gucci, whose new creative director, Alessandro Michele, designed two beautiful gowns for her," Erlanger explained. "I had been so inspired by the florals in his Fall/Winter 2015 collection, and his use of feather-light chiffons, that it seemed like a perfect blending of stylistic moods."
Even still, once the gowns were chosen, heading out on the red carpet wasn't a slip-it-on-and-go-type of thing. "The Gucci team members were so generous with their time," Erlanger said. "They met us in Cannes so we could fine tune the details and fit each gown with precision."
RELATED PHOTOS: Spin-derella! Lupita Nyong'o's Best Red Carpet Twirls
Then for the perfect final result, Erlanger stopped by one other Cannes red carpet staple: the Chopard suite. "Atop the hotel roof, I would sift through trays of jewelry with the Chopard public relations team, selecting the perfect gems for that night's looks," she shared. "Chopard has some of the most exquisite and unique stones and being able to view and access this kind of jewelry was truly remarkable."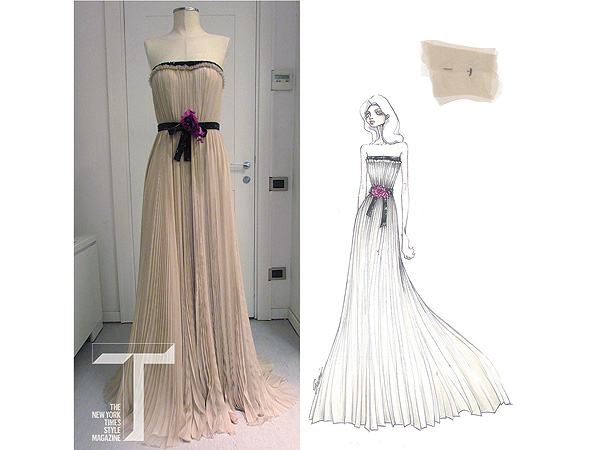 Courtesy T Magazine
Well, it's no wonder Nyong'o Shut. It. Down. on the red carpet.
What do you think of the actress's gowns? Is she your best-dressed at Cannes? Share your thoughts in the comments!
–Colleen Kratofil
RELATED VIDEO: Lupita Nyong'o Is PEOPLE's World's Most Beautiful