Burberry's London in L.A. Show Was All About the Beckhams
Burbery might have made a dramatic entrance in L.A. Thursday, staging a huge runway show complete with British guards and top-name models at the city's famed Griffith Observatory, but (we hate to break it to them) someone's already done the super-glamorous London-to-L.A. transplant thing, and their names are the Beckhams.
Fortunately for Burberry, the entire family (including Burberry model Romeo, 12) was in town to show the brand how across-the-pond glitz is done. Below, check out the Beckhams-in-Burberry highlights you'll be "oohing" and "awwww-ing" over all weekend.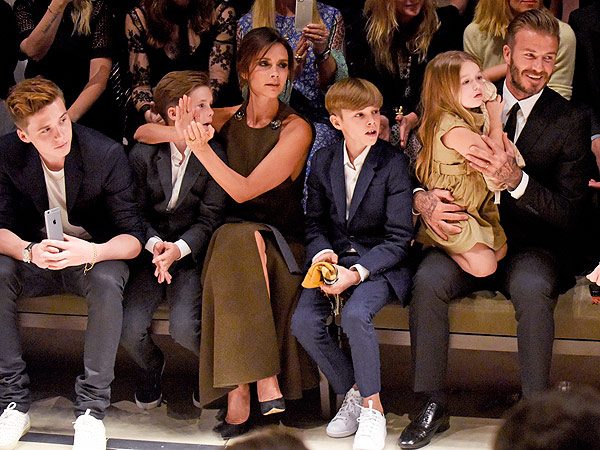 Jeff Vespa/Getty
First up: Prep for the show. Victoria Instagrammed an adorable matching monogrammed set of blankets for her and Harper, 3 (is it normal to be jealous of a three-year-old's closet?) and gave props to her glam squad, putting the finishing touches on her before heading to the show.
Next up: The show itself. David, with Harper on his lap, was seated next to Anna Wintour. Says a source inside (who we will quote verbatim because this is too good to be missed): "Harper was a little fussy at first (just looked tired, honestly) but cheered up once she was given a snack. David doted on her the entire time, stroking her hair and chatting back and forth as she pointed things out on the runway. She would even clap along when everyone else did. At one point, she (I assume) told him she needed to pick her nose because he held up his hand to cover her face while she did so, then laughed after she was done and was wiping her nose (this sounds gross but was actually adorable). Obvious she's a total daddy's girl."
Jeff Vespa/Getty
RELATED PHOTOS: All the best celeb looks from the Burberry show in L.A.!
Finally, the post-show madness. Romeo may be the Burberry employee, but up-and-coming model Brooklyn, 16, was working the crowd in a big way, snagging pics with (and being photobombed by) Cara Delevingne, James Corden and "coolest godfather" Elton John. He also enlisted mom Victoria to play photographer, proving that your parents are still going to snap your "prom pics," even if that "prom" is super high-fashion and attended by a zillion celebs.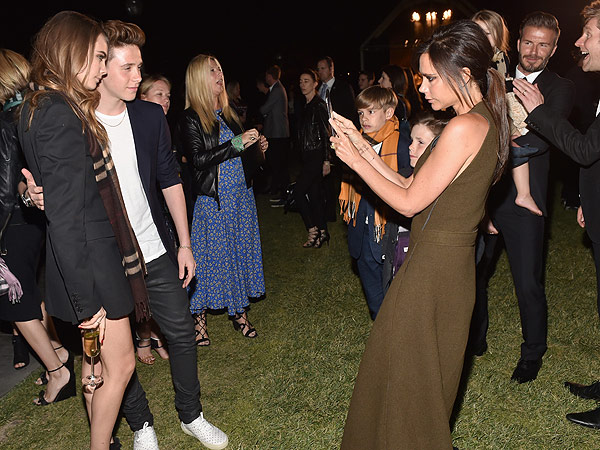 JStefanie Keenan/Getty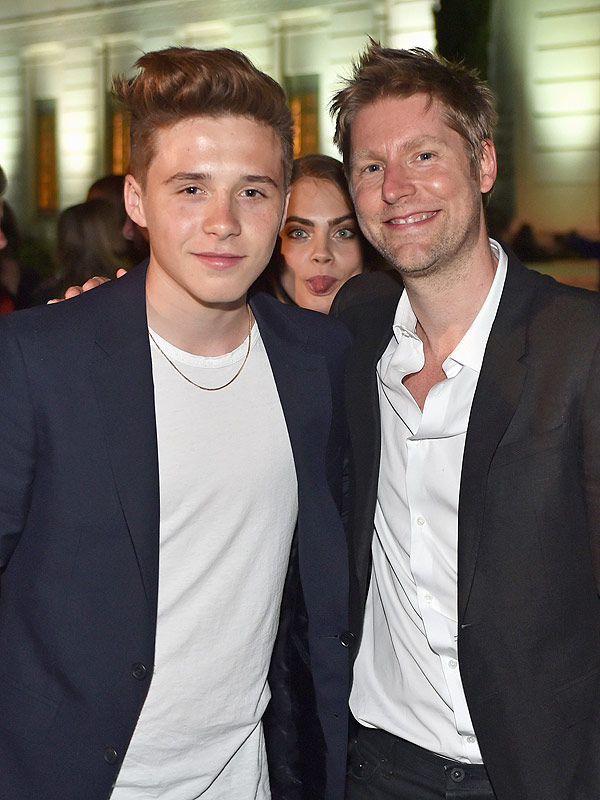 JStefanie Keenan/Getty
Cutest family ever? Loving Victoria's outfit? Share below!
–Alex Apatoff, reporting by Melody Chiu
RELATED VIDEO: A David Beckham Underwear Ad With a Twist!