Julia Louis-Dreyfus: 'I've Gotten Older in Front of You, and That Is Odd'
Julia Louis-Dreyfus has been one of the leading female actresses on TV for the past 25 years, from her iconic comedic role as Elaine Marie Benes on Seinfeld to her beloved current-day character, Senator Selina Meyer on VEEP. And the length of the actress's career has affected her outlook on aging.
James White/NewBeauty
"You've seen me age," she tells New Beauty starring as the magazine's spring/summer 2015 cover girl. "I've been in showbiz for so long. From the first time people saw me on Saturday Night Live until now… it's no secret that I've gotten older. I've gotten older in front of you and that is odd — it is still so strange to me that everyone has seen me age on a public stage. It's totally changing and difficult."
While it's hard for the 54-year-old star to celebrate birthdays in the public eye, she definitely looks great and should be very proud of her age. Her secret? "I have a lot of guilty pleasures — wine and chocolate, in particular — but when I cut them out completely, I get into a lot of trouble. My mantra is moderation."
RELATED PHOTOS: See what fashion and beauty products editors are loving right now

As for her spot-on red carpet style, Louis-Dreyfus says she never leaves the house without taking a photo of herself first — and not just a selfie.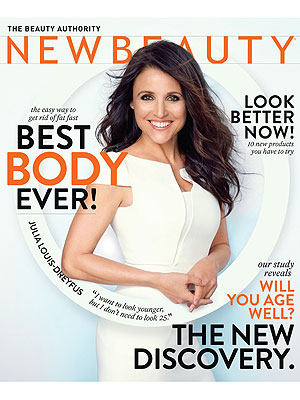 James White/NewBeauty
"One thing I learned in the past 15 years, is if you aren't sure about how you look, take a picture of yourself," she shares. "Sometimes looking at yourself in the mirror is not a true evaluation; sometimes, you need that distance of the camera. I know that sounds crazy, but I think it's true."
Click here for more from the actress's New Beauty interview. What do you think of the actress's outlook on aging? Share your thoughts below.


–