Happy 50th Birthday, Sarah Jessica Parker! We'd Like to Thank You for Your Never-Ending Style Inspiration
Sarah Jessica Parker's outfits have been inspiring women for decades. And even if you've never seen an episode of Sex and the City, it's hard to ignore the actress's amazing, bold, totally unapologetic style. In honor of her 50th birthday, we're looking back at some of her most memorable looks. (And we hope SJP is sitting on a beach somewhere drinking Cosmos.)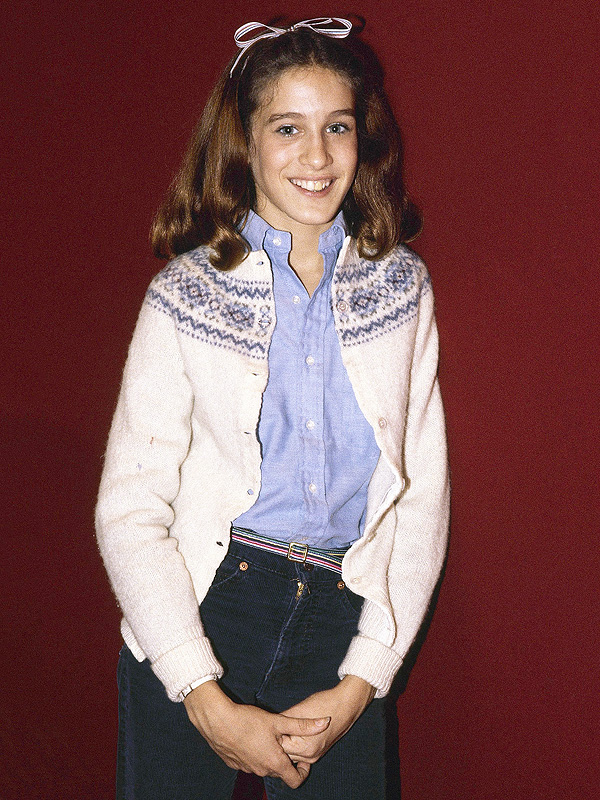 David Handschuh/AP
Brittany Talarico, Style News Editor: Take note of the grosgrain ribbon in SJP's hair. She's a teen in this photo and starring as Annie on Broadway. And that hair ribbon plays a huge part, symbolically, in the eponymous shoe line she launched last year. "The thing is, when I was growing up, we really didn't have two nickels to rub together, but my mother always made sure that my sisters and I had two grosgrain ribbons in our hair," she said. "The rule was that we ironed them every single morning. We even had a special bureau dedicated to hair ribbons. I have them for my own daughters now, and my nieces wear them too. The grosgrain ribbons make SJPs really identifiable to others and really personal to me." I was lucky enough to meet SJP, and she sold me a pair of her shoes. (You can't say no to Carrie Bradshaw!)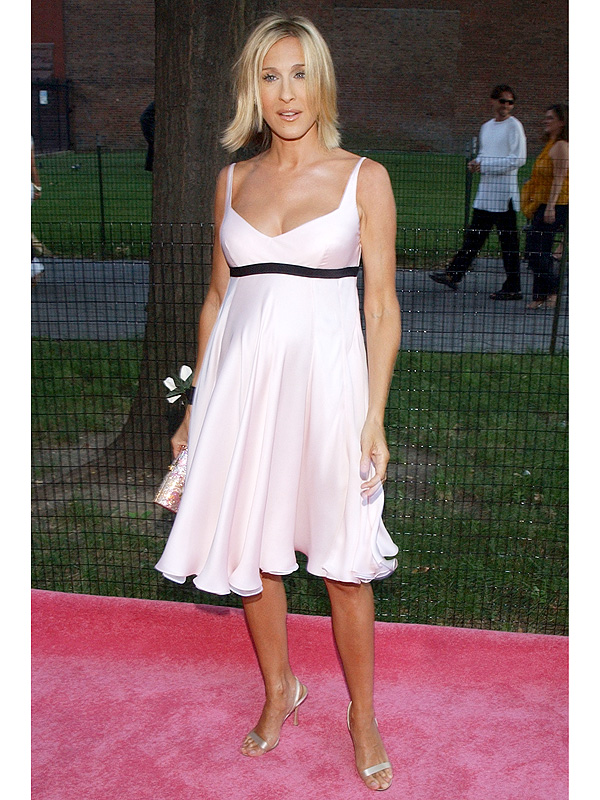 Kevin Mazur/WireImage

Alex Apatoff, Senior Style Editor: As a fellow curly girl, I've always loved that SJP has embraced her mane (without ever being too precious about it). And my favorite cut she's ever had was the cute bob that played a major part in an episode of Sex and the City. The best part was how much fun she had with the short cut, but one particularly memorable moment was the flippy way she styled it with this custom pink Narciso Rodriguez dress (worn with custom Manolo Blahnik heels) at the Sex and the City fifth season premiere — a look she called "the reinvention of the maternity dress."

RELATED: Sarah Jessica Parker Turns 50: Celebrate by Watching Carrie Bradshaw Turn 35 on 'Sex and the City' (VIDEO)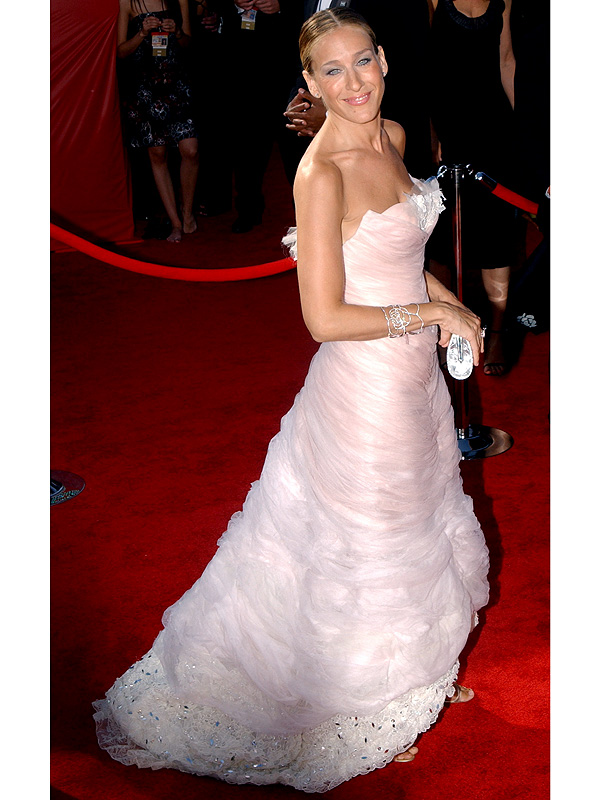 Albert L. Ortega/WireImage

Andrea Lavinthal, Style and Beauty Director: For the 2003 Emmy Awards, she wore the most romantic pale pink Chanel Couture tiered gown that I immediately flagged for the "dream wedding dress" folder on my desktop (this was pre-Pinterest and don't pretend you didn't have one too).
Stephen Lovekin/FilmMagic

Colleen Kratofil, Style Writer-Reporter: Sarah Jessica Parker is pretty much the queen of pulling off incredibly bold accessories. Case in point: her look at the 2013 Met Gala. The theme that year was Punk: Chaos to Couture. She wore a Philip Treacy headpiece (complete with a black spiky mohawk) and Christian Louboutin plaid boots (a nod to '90s flannel) with her Giles Deacon gold embroidered dress to make the most perfectly punk outfit I've ever seen.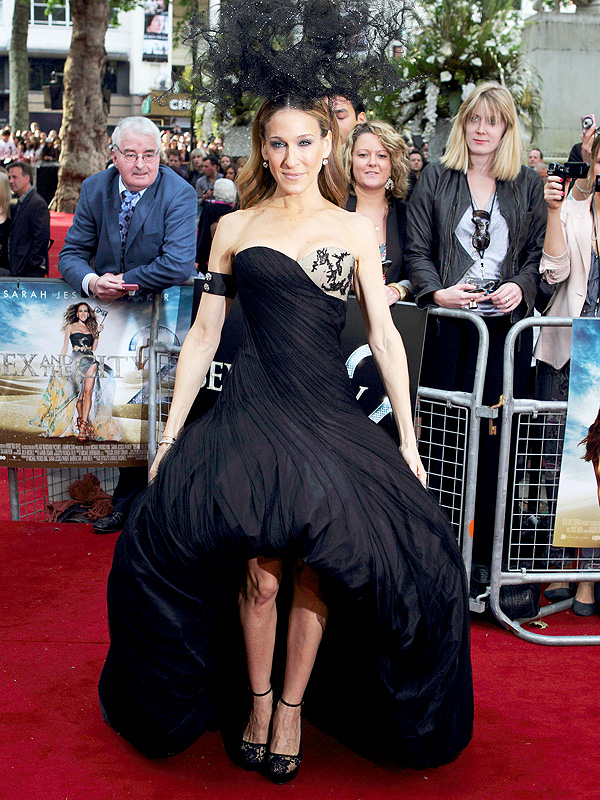 Mike Marsland/WireImage

Sarah Kinonen, Editorial Assistant: Sarah Jessica Parker has always been a fan of late designer Alexander McQueen, so when she arrived to the Sex and the City 2 premiere in London in 2010, we weren't at all surprised she decided to pay tribute to her close friend by wearing a black strapless gown with a voluminous high-low skirt. And in true SJP fashion, the actress topped the look with an intricate black-veiled headpiece, sultry smoky eye and her incredibly toned arms.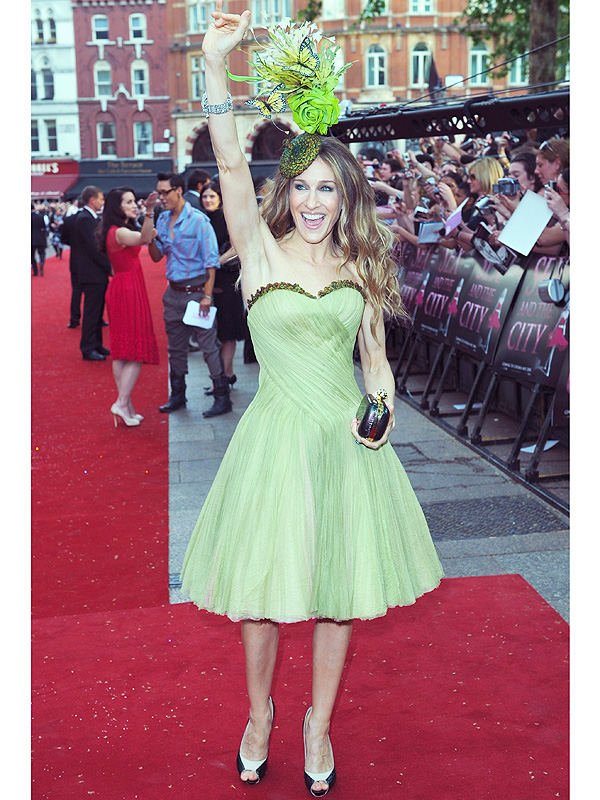 Gareth Cattermole/Getty

Jackie Fields, Beauty Writer: In London, a.k.a the fascinator capital of the planet, SJP appeared at the world premiere of the Sex and the City movie in a sea foam green Alexander McQueen dress — topped off with a Philip Treacy headpiece. The real-life Carrie Bradshaw's nature-inspired accessory (complete with peacock feathers) solidified her place in my mind as Hollywood's biggest risk taker.
What's your most memorable SJP style moment? Can you believe she's 50? How would Carrie Bradshaw celebrate her 50th? Share all your thoughts below.