Kendall Jenner, Gigi Hadid, Justin Bieber (and His Abs!) Stun in New Vogue Spread: See the Photos!
Vogue magazine has just named some of Hollywood's youngest (and most influential) players — Kendall Jenner, Gigi Hadid, Justin Bieber, Ansel Elgort and more stars — the next group to watch in its "Meet Hollywood's New Brat Pack" feature in the April 2015 issue. And the photos are not only going to give you the urge to shop — but probably book a vacation too.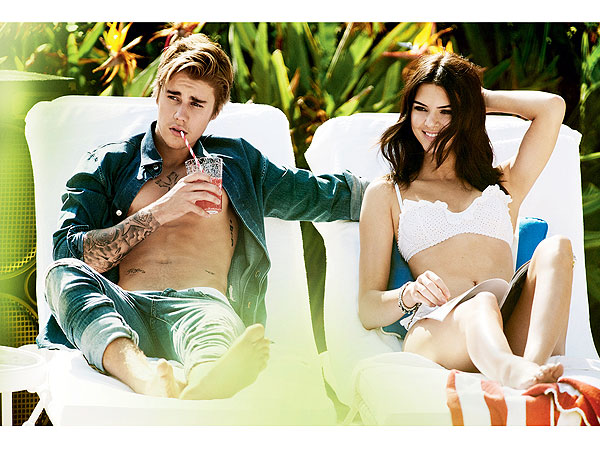 Mario Testino/Vogue
In the colorful spread, shot by renowned fashion photographer Mario Testino, Bieber, 21, and Jenner, 19, hang out poolside — he's wearing a denim-on-denim ensemble (unbuttoned shirt, of course) sipping a fruity concoction, while smiles smiles on in a white frilly, eyelet bikini.
"I like to think I can just grab a pair of sunglasses and go anywhere — but subconsciously I'm aware when I'm at the gym that I need to save energy so I can do a 40-yard dash to my car when I leave," Jenner tells Vogue of her growing fame.
Mario Testino/Vogue
The duo get even closer, embracing each other against a pool ladder in the next shot, with Jenner in lace crop top and matching silk shorts, and Bieber in a crisp, white shirt (again, unbuttoned), a pair of Calvin Klein underwear (he's the latest face of the brand) and a low-hanging pair of jeans.
"I'm actually an introvert," the singer tells the mag. "But as far as shooting fashion goes, or being onstage — me having to be on — I don't get nervous."
RELATED PHOTOS: Pharrell Is 2015's Fashion Icon! Are Past Icons Still Stylish? Let's Find Out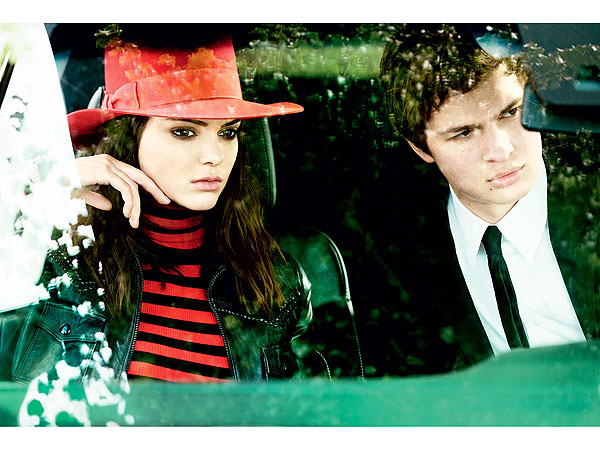 Mario Testino/Vogue
Jenner and Elgort also get flirty, posing together as if they are heading out on date — Jenner in a leather jacket, striped turtleneck and red wide-brim fedora, and Elgort in a suit and extra-slim tie.
But the most handsome man to star in the shoot? Kylie Jenner's pup Norman who joined Hadid and Jenner in one of their shots togehter.
What do you think of Vogue's new "Brat Pack"? Do you think these stars are influential? Which photo is your favorite? Sound off below!
–Sarah Kinonen