A Look at the Calories in Happy Hour Cocktails and Nibbles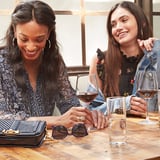 Just how many calories are in that mojito and mozzarella stick? Check out the chart below before heading out for your happy hour celebrations. Let's start with the drinks first and then move on to the food.
Here's the nutritional info for the munchies that go along with your beverage.