The Sneaker Styles Flooding Your Instagram Feed
This story was originally published in June 2016.
These days, Instagram has become our go-to for what's trending — even more than the traditional runway show or trend forecast: We've seen bags, shoes, jackets, and tons of other clothing items go viral thanks to our favorite social media feed.
And while 2016 is only a few months in, we've already been seeing a certain crop of kicks typically associated with sportswear taking the platform by storm. The funny thing about sneaker trends is that they often aren't new styles — rather, they're old standbys being revived by the right people (take Isabel Marant wearing the Stan Smith, for example) that catch on to soak up few months of fame.
The five types below, in particular, are currently flooding our feeds — in the best way possible, of course. Maybe it's because they're versatile enough to suit a variety of personal styles, or maybe it's because they're "in" with the fashion set, but the good news is: they're cool, they're comfortable, and they're easy to walk in. And thankfully, with a little help from Instagram, we're chock-full of ideas on how to wear these popular sneaks.
Nike Air Max 95 OG
This bold and quirky style may not be for everyone, but anyone who dares pull it off (like our market editor, Rachel Besser) gets major street cred in our book. Wear them with everything from a flowy mini to casual sweats to cropped, frayed jeans.
Nike Air Max 95 OG, $170 $134.97, available at Nike.
Puma Eskiva
A fearless update on the brand's legendary boxing design from the '60s, this hybrid sneaker-meets-boot style by Puma is just as photogenic on the foot as it is on its own. Lace 'em up all the way, or stop halfway through — whichever suits your style.
Puma Eskiva Hi, $120, available at Puma.
Chanel Fabric & Suede Calfskin Sneakers
You know a sneaker's a big deal when Kylie Jenner posts a pic of it. While these luxe joggers may not come cheap, they are a major statement-maker thanks to their chunky, throwback silhoutte, bold colors, and oversized logo.
Chanel Fabric & Suede Calfskin Sneakers, $950, available at Chanel.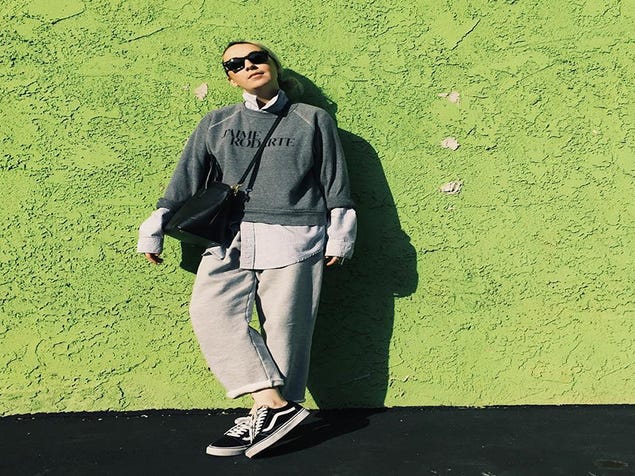 Vans Old Skool Lite
Seriously, what's not to love about a sneaker that's black, white, and goes with everything? This classic pair is (once again) having its moment in the spotlight — but instead of dominating skate parks, they're blowing up in #OOTD shots this time.
Vans Old Skool Lite, $65, available at Vans.
Yeezy Boost 350
Likely the most 'grammed shoe of 2015, we don't expect the popularity of Kanye West-designed Yeezy's to slow down any time soon — especially considering rumors that Adidas will release four times last year's quantity starting in February. The only thing that could potentially slow their momentum down is whatever new pair of (reportedly more affordable) kicks West has up his sleeve for Yeezy Season 3...
These are currently sold out, but keep an eye on the Adidas site for updates and restocks.
Nike Cortez
From Chiara Ferragni (pictured here) to Mira Duma, fashion girls have definitely been drawn to this retro-classic white sneaker style from Nike. It's not too sporty, but just athletic enough to finish off any jeans-based outfit with a perfectly stylish, cool-girl touch.
Nike Classic Cortez Premium Sneakers $130.45, available at Farfetch.
Superga x Sandro
Launched just a few weeks ago, the collaboration between It sneaker brand Superga and French fashion label Sandro Paris are a warm weather must. And as if the shoes themselves weren't cool enough already, many members of the fashion crowd have had theirs personalized by Insta-famous artist Marie Sophie Lockhart for an exclusive pair of kicks that's truly their own.
Superga x Sandro 2750 Sneakers Shoes, $95, available at Sandro Paris.
Nike Air More Uptempo
For such a bold, oversized silhouette, it's impressive how much traction this throwback Nike style has gotten on Instagram over the past couple of weeks. Designed as an update of the OG '90s basketball version, these in-your-face sneakers went viral as soon as they hit shelves, selling out left and right. So, if you're daring enough to pull these kicks off, getting your hands on a pair might not be so easy: But then again, once you do find them (we recommend scouring eBay), it makes them all the more worth it, no?
These are currently sold out, but we're keeping our eye out for re-stocks.
Walter Steiger Elite
Having already been worn by the likes of Kylie Jenner (pictured below) and actress Anna Kendrick, these swirly sneakers are sure to hit the big time. The Elite leather high tops are the first sneaker by iconic Parisian shoemaker Walter Steiger, and they come in a few colorways. These kicks don't come cheap, but you can scoop them up on sale right now at the link below.
Walter Steiger Elite, $625 $437, available at Walter Steiger.
Vans Nordstrom Exclusives
We knew it was going to be good when Nordstrom teamed up with Vans to give one of its signature sneakers a whole new look, and we can already tell they'll going to blow up on Instagram — they're just too pastel and fuzzy not to photograph.
Vans Faux Shearling & Canvas Sneaker, $64.95, available at Nordstrom.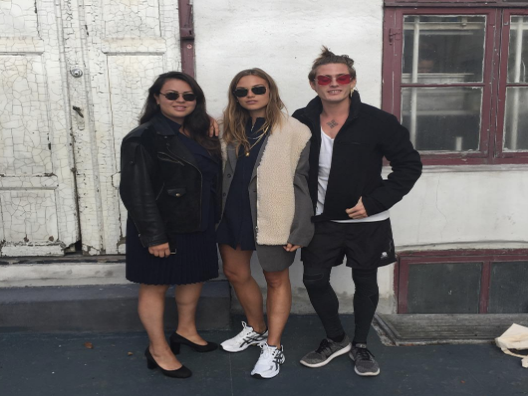 Asics Running Shoes
Okay, hear us out on this one: We already know "orthopedic-style" sneakers are creeping into popularity, and these take the aesthetic pretty literally. You heard it here first: Hardcore running shoes are the next wave of normcore. The only question: Will you be jumping on the bandwagon?
Asics Gel-190 TR, $80, available at Asics.
Gucci Ace Sneaker
Nope, it's not just you — Gucci is officially everywhere, and the house's creative director, Alessandro Michele, is to thank for this blogger-favorite sneaker that's so pretty, you can spot it from a mile away.
Gucci Ace Ambroidered Low-top Sneaker, $695, available at Gucci.
Reebok Question Mid Teyana T
Teyana Taylor's been on straight fire since she starred in Kanye West's Fade music video, and now we can all feel as on top of the world thanks to her sneaker collab with Reebok. These blood-red kicks are already being spotted every time you log into Instagram — you just can't miss 'em.
These are currently sold out, but keep an eye on the Reebok site for updates and restocks.
Like what you see? How about some more R29 goodness, right here?
8 Costumes For Girls Who Have Moved Beyond Breakfast At Tiffany's
Everything You Need To Master The Most Confusing Dress Code
Get Ready To Covet These New Disney-Inspired Wedding Dresses